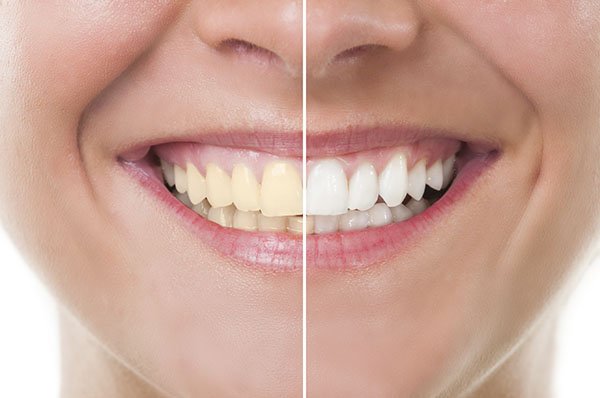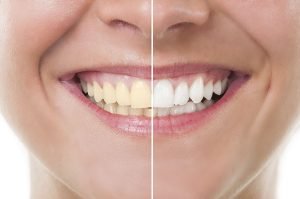 Having a bright and beautiful smile can enhance your appearance and make you appear younger, healthier, more attractive, and even more successful.
But not everyone has a perfect smile. And one of the most damaging (and yet treatable) conditions for your teeth is yellowing. Yellow teeth can turn your smile, and personality, down several notches.
The good news is that The Glenroy Dental Group has several effective ways to defeat yellowing, including prevention and treatment approaches. If you suffer from a yellow smile, we'd like to be your partner in battling it.
If you think you need an upgrade to your smile, The Glenroy Dental Group is happy to sit down with you for a consultation as to what treatment is right for your bright, white smile.
Causes of Tooth Yellowing
Tooth discoloration can either be caused by extrinsic stains or intrinsic stains.
Extrinsic Stain Causes
Extrinsic stains are a lot like stains on a tablecloth. You constantly eat foods with colour pigments and, inevitably, some of that colour ends up on your tooth enamel, and some of it stays there if not dealt with quickly.
Even though foods can cause your teeth to stain, you can't avoid all foods that can potentially stain your teeth. To do that, you'd have to stop eating even some healthy foods. Luckily not all foods and drinks are equally likely to stain your teeth, and some of the worst culprits can be avoided through lifestyle changes.
Some of the main causes for extrinsic staining include:
Smoking
Coffee and tea
Cola and brightly colored soft drinks
Red wine
You don't have to stop drinking hot beverages, red wine and cola entirely, but it's best to cut back on your intake. In truth, any foods that are colorful can stain your teeth, even healthy ones. This would include tomatoes, pomegranates and other bright fruits. Drinking these drinks with straws, and rinsing your mouth with water when finished, can help you battle these kinds of stains.
Intrinsic Stains Causes
Intrinsic stains are more complicated. With intrinsic staining, what causes tooth yellowing isn't something else staining the tooth. Instead, the tooth naturally becomes dull-looking.
Unlike with extrinsic staining, tooth yellowing through intrinsic staining can be caused by a variety of things, not only diet and lifestyle.
The causes of tooth discolouration can be:
Thin tooth enamel
Tooth wear
Certain medications, especially antibiotics
Dental fillings
Treating Yellowed Teeth
We use high-quality whitening systems that are designed to create long-term effects. When combined with good dental hygiene habits our treatments mean you will experience very minimal whitening loss over time. Also, our treatments are safe and won't harm your teeth and delicate gums.
In-Office Whitening
Laser dental whitening is the most efficient and fastest whitening system.
You can achieve an average of eight shades whiter in less than an hour using laser dental whitening.
In-office whitening has been clinically proven to be safe and effective, with minimal to no adverse effects.
Take-home Whitening
Your dentist will fabricate a tray to custom fit your teeth, to which the whitening gel is applied.
The trays are worn from 30 minutes a day to overnight, depending on the recommendation of your dentist.
Tooth Whitening Consultation in Glenroy
While tooth-whitening is a very common and successful treatment of yellowed teeth, in cases of seriously intrinsically stained teeth your The Glenroy Dental Group dentist may recommend veneers to upgrade your smile. If discolouration is caused by chipped or damaged teeth, your Glenroy dentist will check for tooth-grinding ("bruxism") and recommend a mouthpiece of some other form of treatment.
The good news is that, whatever the cause of your dental yellowing, The Glenroy Dental Group has an appropriate treatment!
Our Teeth Whitening Offer
FREE Teeth Whitening Consultation
Zoom Teeth Whitening for $450
Teeth Whitening begins from $150
To claim your offer call us on (03) 9306 6511 or make an appointment online TODAY!