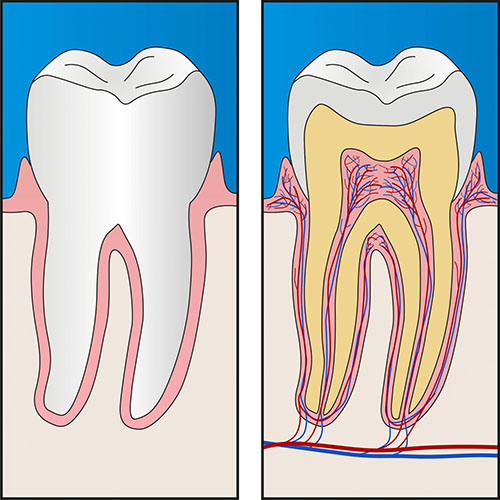 Root canal treatment is given to save a badly infected tooth caused by decay, disease or affected by injury. Advances in dentistry allow dentists to provide patients with an option to restore the tooth and save it from extraction.
Root canal treatment can:
Remove the infected pulp tissue
Sanitise the root canal
Reseal the tooth to prevent further damage
At Glenroy Dental Group, our dental professionals are always up to date with the latest technical procedures and developments in the field of root canal therapy. We guarantee to provide and perform a safe and effective root canal treatment.
Signs You Require A Root Canal Treatment
Symptoms of an infected pulp include:
Tooth pain
Sensitivity to heat or cold
Tooth discolouration
Soreness or swelling in the gums around the affected tooth
If you experience any of these symptoms, see your dentist as soon as possible. An untreated infected root canal can result in unbearable pain. Also, the infection from an untreated dental abscess can damage the bone surrounding the root.
The Procedure
Examination – your dentist will conduct a thorough examination to determine the exact cause of the problem and the most suitable treatment to carry out.
Removal of infected pulp – this process involves exposing the infected pulp and removal of the tissue, nerves, and blood vessels.
Preservation – to preserve the tooth, the root canal is filled first with a sterile, inert material, replacing the infected pulp
Sealing – after sealing the treated tooth, your dentist will then install a crown or permanent filling.
The entire procedure of root canal treatment requires at least two appointments, depending on your situation. At Glenroy Dental Group, we are devoted to providing effective and pain-free dental service when it comes to meticulous procedures such as root canal treatment.
Dental Consultation
At The Glenroy Dental Group, you are one step away from having the smile you always wanted. Your trusted Glenroy dentist will give you a fully informed idea of all your treatment options, costs, and durations.
Book online or call to find out more about The Glenroy Dental Group special offers.
Contact The Glenroy Dental Group now at (03) 9306 6511 or make an appointment online.