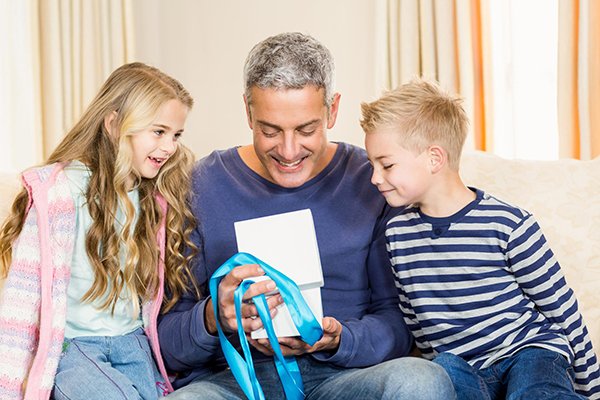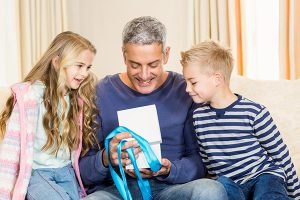 Father's Day is a great holiday, but for 90 per cent of us it also means panicking and then running out to get him something neckwear or alcohol-related at 4:30 p.m. on the preceding Saturday.
Dads are our heroes, best friends, protectors and providers, but sometimes it is hard to find them just the right gift. With Father's Day around the corner, we would like to help with your Father's Day gift.
The Glenroy Dental Group is more than just a dental clinic. Our patients are our family, and we would like to wish a happy Father's Day to all the great Dads out there. So, in case you haven't gotten anything for Father's Day yet, The Glenroy Dental Group has compiled a list of our favourite Father's Day gifts that focus on dental health.
Mouthwash Dispenser
Most dads prefer something homemade so why not make him something creative and eco-friendly? Replace his clunky looking bottle of mouthwash with a handmade mouthwash dispenser! Fill Dad's favourite empty whiskey or liquor bottle with his mouthwash of choice. If he doesn't drink, use a mason jar, or any other attractive container.
Electric Toothbrush
Studies show that 1/3 of dads have a preference for electronics, so why not give your Dad an electronic toothbrush to keep his smile healthy and bright? Not only can an electric toothbrush keep your Dad's teeth extra clean with little work, but they bring your Dad extra benefits as well:
It keeps his heart and mind healthy. Plaque can cause gum disease and inflammation that can damage the blood vessels in the heart and brain.
It's excellent if Dad has arthritis. Using a manual toothbrush can be difficult and even painful if your Dad suffers from arthritis or mobility problems in the wrists, hands, or arms.
It enables Dad to brush longer. Dentists recommend we brush for two minutes. Electric toothbrushes eliminate guesswork, thanks to built-in timers.
It can relieve sensitivity. With an electric toothbrush powered bristles do the hard work, making it difficult to apply more pressure than you need.
It stops one-sided brushing. Electric toothbrushes apply equal pressure to all parts of your mouth, making sure each tooth receives the same amount of attention.
Dental Travel Kit
If your dad is a frequent traveller for work or frequently goes camping, a dental hygiene kit can come in handy. Pack sample sizes of all the daily essentials (soft bristle brush, floss, mouthwash and interdental brush) so Dad can have a clean and fresh smile anywhere any time. If your Dad has any special needs, make sure those items are packed, and always include the phone number for The Glenroy Dental Group so Dad can reach us in case of emergency!
Eco-friendly toothbrush
Is your dad concerned about the environment? If so, you might give him the gift of bamboo toothbrushes. The bristles are soft, therefore less likely to damage gums or enamel, and the charcoal in them fights bad breath. As a bonus, bamboo naturally fights microbes, meaning your Dad doesn't have to worry about bacteria. And since most Dads keep their toothbrushes in the bathroom, a breeding ground for bacteria, this is a very useful feature! The brushes come in biodegradable packages, and one 4-pack of brushes will last for a year.
Brighten your Dad's smile!
A radiant, white smile provides a number of benefits:
Boosted self-confidence
Increased ability to communicate with others
More reasons to smile
A more positive mood
A strengthened commitment to a daily oral hygiene regimen
But as your Dad ages, time and other influences can darken and stain his teeth, making his smile less attractive and persuasive. Tooth discolouration can be the outcome of a combination of things: poor oral hygiene, injuries, genetics, ageing, medications, and some foods.
At The Glenroy Dental Group, we can transform and whiten Dad's dull smile in 1 hour! Our dental professionals know what works best for your smile and we offer you the longest lasting whitening systems.
We use high-quality whitening systems designed to create long-term improvements. When allied with good dental hygiene habits our treatments mean you will experience very little whitening loss over time. In addition, our procedures are safe and won't harm your teeth or delicate gums.
Learn about whitening at The Glenroy Dental Group
The Glenroy Dental Group and You
At The Glenroy Dental Group, your health and happiness, and that of your loved ones are our primary goals. We use the most modern technology available and take advantage of the latest dental techniques to ensure that your dental health and appearance are at the highest level. We want you to receive the best possible dental care with no pain or anxiety!
Our offices are conveniently located in the Pascoe Vale Road shopping strip, Glenroy, with plenty of parking space, we are located within easy walking distance of the Glenroy train station.
New Patients Promotions
Exam, Scale & Clean  for only $99!
Call (03) 9306 6511 or visit us at 2/830 Pascoe Vale Road in Glenroy.